REGIONAL DIRECTORS: Tampa Florida
Glen and Shelly Penning
Phone: 813-619-1534
Email: dtbdmentors@gmail.com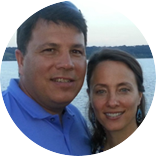 Glen and Shelly are passionate marriage mentors and strong advocates for healthy marriages.
Their role is to train and lead a team of marriage mentors in the Tampa area.
The mentoring is offered for premarital preparation, for couples wanting to enrich their marriage, and for couples in crisis.
WHAT IS MARRIAGE MENTORING?
Marriage mentoring provides couples the chance to explore their relationship with unbiased, caring facilitators who can invest in them for up to ten weeks.
The mentoring process encourages couples to appreciate the importance of commitment as well as learn ways to communicate in a healthy way and resolve conflict. Even those who feel helpless in their relationships will experience understanding, forgiveness, reconciliation and hope.
Mentors are committed to fight for your marriage and guide you to a stronger, healthier marriage that honors God, each other and your family.
HOW TO GET STARTED
STEP ONE
Register to get mentored

Fill out the registration form prior to mentoring.

CLICK HERE

to register.
STEP TWO
Pay the Mentoring Fee of $200

CLICK HERE

to pay the fee and begin your journey.
DETAILS
An up front fee for mentoring is required and is nonrefundable.

This fee will pay for up to ten mentoring sessions, two workbooks and the online survey.

After the fee is received, couples will be placed with mentors in their area.

Each person will have their own workbook. Weekly session logs are provided in the workbooks to take notes and document commitments throughout the mentoring process.

Each couple will take the online survey during the first session of mentoring. The survey is not a pass/fail test. It is used as a means of identifying strengths and weaknesses in the relationship and to extract information from each party to better understand each other and develop better communication skills.