Discovery Cards
Do you long for a way to learn more about the person you love? Have you come to that place in your relationship where you feel like you no longer have anything to talk about?
If so,
Discovery Cards
can help renew your relationship through these great, insightful questions.
It's simple. Select a couple of cards and go for a walk, go on a date or simply discuss these questions over a cup of coffee. They will help deepen your understanding of each other. These questions are thought-provoking as well as humorous and light-hearted. Whether you are dating, engaged or married, this creative communication tool will strengthen your relationship in a fun and non-threatening way.
Quantity Discount (call to order discount quantities) 1- 877-813-7518 * ALLOW 5-7 BUSINESS DAYS FOR SHIPPING.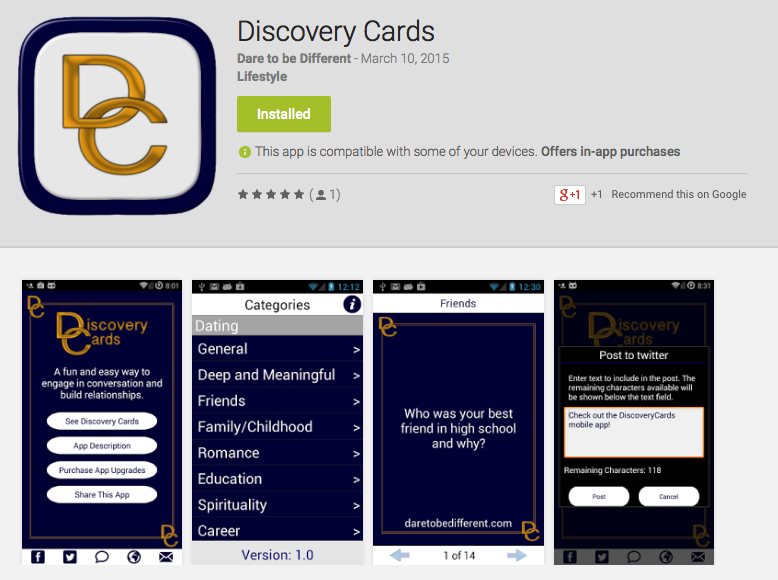 You can download the app for free and try it before you buy it.
Each segment in the app will give you 5 free samples.
If you like it, you can buy the full version for $.99.
It also has a special section for you to take your kids out on a date and ask them questions.
Go on a date, use your phone and really connect. Each question is to be answered by both. You will laugh and learn new things about each other.
Romance is often connected to the art of communication and discovering new things about each other. We are never too old to learn new things!
Product Details
Weight: 0.1 lbs.
Related Categories
Other Products By
Love and Respect Mentoring Products!
* The LR mentor training system is the same as DTBD but includes the LR message.
* The material and video includes a small portion of integration of the LR content.
* The pricing is the same.