DARE Online Marriage Mentor Training Kit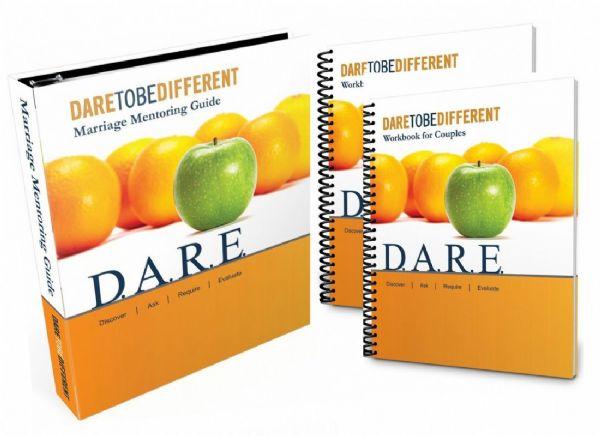 DARE Online Marriage Mentor Training Kit
SKU#: PROD61851
This kit is intended for ONE mentor couple.
CLICK HERE to talk to Matt about training a team of mentors in your church with our 'lifetime license', live training, online training or livestream training and group discounts.
The Kit Includes the Following:
* Access to the Online Training Video for Mentor Training Level 1, 2 and 3.
* One (1) Marriage Mentoring Guide for the mentor couple
* Two (2) Workbooks for the mentees (Each mentee is required to have a workbook)
* Downloadable Handouts
* Certification upon completion of Level 3
* This purchase is for ONE mentor couple only.
* Contact us to get special GROUP PRICING for a team of mentors or to train your team of mentors LIVE or LIVESTREAM.
Mentor Training Level 1: Getting Started
Author: Matt Loehr
Plan for 5.5 hours of video teaching
Topics covered
How to mediate
How to teach biblical truths
How to confront core issues driving the behavior
How to setup your meetings in your home
How to launch a team of mentors in your church
Mentor Training Level 2: 'Tough Cases'
Author: Matt Loehr
Plan for 4 hours of video teaching
Topics covered
When couples stop communicating
Pornography
Recovering from an affair
An unforgiving heart
Premarital couples cohabiting
* Includes downloadable handouts
Mentor Training Level 3: Video teaching for every category in the survey
Author: Matt Loehr and Dr. Emerson Eggerichs
Plan for 6 hours of video teaching
Topics covered
How to 'round the bases'
Love & Respect fundamentals
Communication
Compatibility
Friends and Hobbies
Family and In-laws
Faith
Sex
LIfestyle
Money
Loyalty
Parenting
Re-married
Pre-marital
Pre-marital cohabiting
* Includes downloadable handouts
* Certification is offered upon completion of Level 3