Counselor Survey Center
COUNSELORS CREATE AN ACCOUNT
After you have created an account you can then login at any time to pre-purchase surveys for your clients.

Prior to your client filling out a survey, you must give them the same email address used when creating your account. This will link their survey to your account.
NOTE: You must create an account and pre-purchase surveys before your clients can access a survey.

USE OUR ONLINE SURVEY
It's an automated survey asking couples all the questions you would want answers to.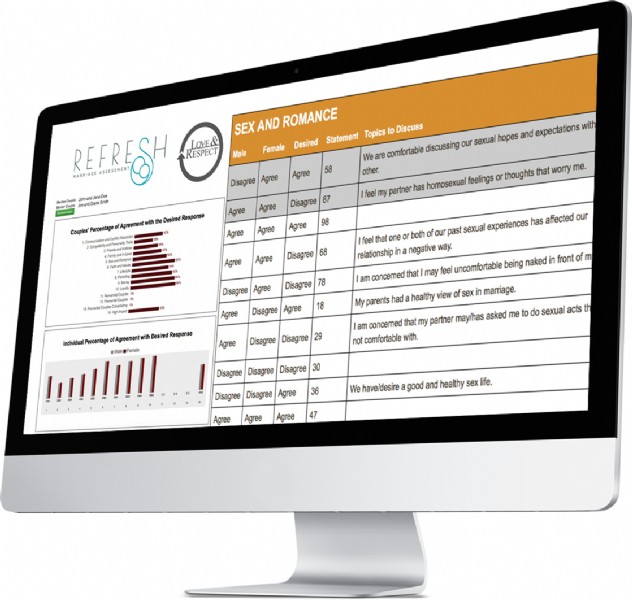 CLICK HERE TO ACCESS A SAMPLE SURVEY

OUR ONLINE SURVEY DASHBOARD PROVIDES COUNSELORS:
Access to client's survey results

Ability to enter client session notes online

Access video courses (when purchased)

Send an auto-feedback form to clients when finished
CLICK HERE to meet with Matt Loehr for a quick demonstration.
COUPLES GETTING COUNSELED CREATE AN ACCOUNT
Create ONE account AS A COUPLE at the same time, using the same electronic device.

When creating an account be sure to include your counselors email.
COUPLES LOGIN TO TAKE A SURVEY
After you have created an account as a couple, you can then login individually to take your survey.

Your survey results will automatically be sent to your counselor.

SURVEY CATEGORIES
Communication

Compatibility and Personality

Friends and Hobbies

Family and In-Laws

Sex and Romance

Faith and Values

Lifestyle

Parenting

Money

Loyalty

Remarried

Pre-Marital

Pre-Marital Cohabiting

High Impact